Congreation/Ukraine
PRESENT DAY CHURCH WORK IN THE EVANGELICAL
LUTHERAN CONGREGATIONS OF MOLDOVA AND UKRAINE
June 2001, Rev. January 2002
*****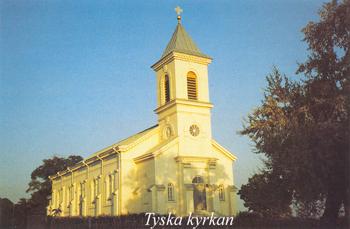 Restored Building of the Schlangendorf/Smeevka
German Evangelical Lutheran Church in Ukraine.
Dear Friends,
After I wrote the introduction, it seemed to me that a few more things needed to be mentioned. Firstly, I would like to thank the many people who helped me in gathering this data. Bishop Ratz of the GELCU (German Evangelical Lutheran Church in Ukraine) has been very helpful, as well as Pastor Moser, Pastor Graefenstein AELCU (Association of Evangelical Lutheran Churches in Ukraine), and Professor Kovaciny ULC (Ukrainian Lutheran Church). I know the last two individuals personally, having met Pastor Graefenstein in Odessa in the fall of 1997 when I spent a week there and in Bessarabia and having known Roger Kovaciny since my first year of post High School education at Northwestern College in Watertown, Wisconsin.
The information on the GELCU was sent to me in the original German by Bishop Ratz. The first section was a report meant for publication in various newspapers. The second section was distributed among the congregations of the Evangelical Lutheran Church of Bavaria for Lent 2001. The lenten offering of the Bavarian Church was designated for the support of the GELCU.
Other material has come to me via the "Thoughts of Faith" mission society and several telephone conversations with Roger Kovaciny. Other telephone conversations and letters from Pastors Graefenstein and Pastor Moser were helpful as well. Besides this, there has been much contact with Dr. Norman Threinen and other pastors. Dr. Threinen heads the seminary program for the AELCU. He is a professor at Concordia Lutheran Seminary in Edmonton.
The reason for doing this study was simply because no one else was doing it. There was little information available in the English language. It would be valuable to have it translated into Spanish and perhaps Portuguese for Germans from Russia descended people in South America.
I would like to encourage you to pass this booklet on to your congregations and pastors. Please feel free to make as many copies of it as are required. Something will only happen if local congregations take the initiative and help out in the old homeland areas. As the Germans say:
"von nichts kommt nichts".
It is simply impossible for me alone to send this to all the congregations founded by Germans from Russia. I have put together a list of Germans from Russia founded congregations in the United States. If you need this information, please feel free to contact me.
I also enclose some information on a project for the establishment of a Christian orphanage near Omsk in Siberia. I know Alexander and Anna Pfaffenrot personally, as they were in Canada and the United States for a period of 5 weeks in August and September of 2000. They gave talks on our people in Russia in six different localities in Alberta, British Columbia and in Washington State. Alexander would be able to transport materials for the work in Ukraine and in Moldova. He did this full-time for eight years. Right now he and another gentleman of Volga German origin are very active in getting the orphanage going.
The information on adoptions will be important to distribute to individuals and families who are looking for children. Taking care of children is a blessed occupation and is the great love of our Germans from Russia families who had great joy in bringing so many children into this world.
A loving Christian home is the greatest gift that can be given to an orphaned or abandoned child.
The information regarding the registration and care of cemeteries in Ukraine and Moldova is important for us and we admire what our fellow citizens of the Jewish faith have done in this area. There are large numbers of Jewish young people from Israel, the United States and Canada who travel to Eastern Europe each year in order to see where their family originated. We would be wise to emulate similar programs.
The motto of GRHS is "Arbeit macht das Leben suess". This has indeed been a sweet and mild work and I am thankful to Our Lord that He has accomplished it by blessing the work of my hands. And now I entrust it into His hands. His Holy Spirit will work in your hearts where and when He will.
May Our Good Lord bless you!
Horst W. Gutsche
Box 4842, Barrhead
Alberta T7N 1A6
Tel: 780 674 3944
/… …/
Ukraine in Figures.
Area: 630,700 sq. km. (second largest area of any country in Europe)
Population: 50.7 million (compared to Germany which has 82 million)
Capital city: Kiev (2.6 million inhabitants)
Independent since 1991
Currency: 1 Hrivna = .43 DM
Economic development: a decline of over 60 % since 1991.
/… …/
It Started With a Broken Tooth.
Work with Youth in Odessa
"Come quickly, they knocked a tooth out of Sasha's mouth!" screamed a young fellow to me while we were spending an afternoon at the seashore with the youth group. In order to confront the person responsible, I ran to the place where it happened. There I soon found
out that a volleyball was the cause of the misfortune. The ball had unfortunately hit Sasha and had broken a tooth.
Byessubniy - the Toothless One
Sasha cried uncontrollably; not because of the pain, as one would surmise, but because his family had no money in order to pay for a dentist. After close examination, I found out that his whole set of teeth was in terrible condition. Previously, Sasha had been in a hospital for
a long time and had been treated with strong antibiotics, so that his teeth could not develop properly. He had toothaches for a long time, but a visit to the dentist could not be paid for by his family. Sasha was a very reserved boy. He had been sent to the youth group by his German grandmother. He didn't have any friends there as yet. Because of his bad teeth, he soon got a nickname, which I only understood after what had now happened: The other young people called him "Byessubniy - the toothless one".
The Congregation had to help
If an accident like this had taken place during a church event in Germany, the congregational insurance policy would have covered it. There are no insurance policies like this in Ukraine. Still it was clear that the congregation had to help. With the help of private donations from Germany, dental therapy could be paid for and Sasha's toothaches were over and there was no reason for his nickname anymore.
Times like this should go on forever!
Because of this dental therapy, there were regular meetings with Sasha. He attended the youth group and the youth Bible study group and invited his sister and his friends to come as well. Since that time they have become regular members of the youth group. Sasha opened up to God and his fellow human beings. He began to help with the children's ministry. In the summer of 2000, he took part as a counselor during a children's camp sponsored by the German Evangelical Lutheran Church in Ukraine. On the last evening of the camp, Sasha somewhat sadly stated: " This camp should go on and on forever. I am needed here, here there is lots of good food to eat, here everyone loves each other and loves Jesus too.
Sharing Life - Offering Faith
At home 16 year old Sasha lives with his mother and his 14 year old sister in a one room apartment. They live separately from the father, who is a chronic alcoholic. The mother earns just enough money in order to feed the family. When Sasha finishes school next year, there will not be enough money for him to get a place in high school or in a vocational school. Unfortunately Sasha's situation is not the exception. Most young people in our congregation come live in difficult family situations. For this reason it is absolutely necessary to combine youth ministry with social service ministry in Ukraine. Financial aid for medical attention is just as important as help for the search for an education. Aid such as this makes it clear that faith ties one to a fellowship in which the individual with his concerns is taken seriously. Youth tangibly experience that God is near and that He has a way, a goal and a place of responsibility for everyone.
You are Needed!
In their day to day life, young people experience that they are not needed and that they are actually superfluous. In the harbor city of Odessa, the temptations of alcohol and drugs are not far away. The youth group of the congregation seeks to provide an alternative by way of regular work and by way of the annual youth camps. It provides a place to get involved, a good fellowship, spiritual direction and also individual aid.
The Congregation as a Home
It is good to hear from young people that the congregation has become their home, even if this statement indicates that the situation is terrible at home in the family. It is good to experience that God calls fellow workers in the youth group. They then have new responsibilities and a new reason for living. The church's ministry in Ukraine with children and youth is very extensive.
Dirk Moelling, Odessa
Project - for children and youth camps
SOCIAL MINISTRY WITH CHILDREN
Children Today - Tomorrow the Society of Ukraine
This was the headline of an article written by an organization which seeks to lobby with the government for the rights of children in the city of Odessa, especially for families with many children.
Child Allowances of only 3 Marks ($1.50 US) a Month.
The make a lot of propaganda - there isn't anything else which can be done because of a lack of finances and personnel and plead for a raise for the child allowance which at present consists of about 3 marks per child per month. They demand financial help from the government for medical examinations and for education and lobby for more and less extensive apartments for families with many children. So far there has been no record of successes in this regard!
Work with the Poorest.
What can one do with a country which is still held hostage by corruption and where the gap between the rich and the poor gets wider and wider? The children are especially disadvantaged when they are marked as being children who will never be able to be active, responsible citizens of the country. I refer to those who are chronically ill, the handicapped, those with behavioral problems, those who are psychologically disturbed and socially disadvantaged. No one does anything for them. Quite to the contrary, they are referred to as "the crucified"; in the vernacular of the people; "they have been judged right up until they die". And they really need our help. An Example from our Work:
Andrei, who is 8 years old, comes into my apartment together with his mother. I greet him with a smile and he smiles and his little hand shakes mine. The mother begins to mouth the words of greeting syllable by syllable for him to repeat. Andrei eagerly repeats the words and is proud that he has finished his words. This would have been impossible just half a year ago.
At that time Andrei just ran around wild and undisciplined, didn't speak, never looked at anyone and was only interested in eating - and this pleasure was severely restricted for him. Andrei suffers from a disease which is a genetic defect in his body metabolism and which without treatment leads to severe mental and physical handicaps or retardation in development. When this illness was diagnosed, Andrei was already 5 years old.
In Germany children are tested for this syndrome during their first hours after birth - one drop of blood suffices for the test. If the illness is diagnosed, the child will develop normally with a proper diet and the proper medication. This test is however not routinely carried out in Ukraine. Protein substitutes and dietary products are hardly available here - even special educational facilities are hard to find and often unavailable.
Helping by Example
What could I do as a deaconess nurse, or we as the congregation do for this child? It is to be noted that the congregation has, thanks to exemplary support, the ability to help the poor and the weak.
With the help of God we found a special speech therapist and a teacher for the handicapped who can teach him at home on a one to one basis. The mother can order medication for the boy from a place in Moscow and we can get special dietary products for the boy from Germany, so that he is now fed regularly and gets full as well. Several individuals in Germany have taken over the financial sponsorship for Andrei and many support the family through prayer. Andrei's father, who is unemployed, because of a lack of hope previously abused his wife and children, but now often invites us to his house out of thankfulness and what is the greatest thing of all, he has let God have a place in his life.
Sister Doris Mueller, Odessa
/… …/
SOCIAL MINISTRY WORK
Helping Because the Need is So Great
The social ministry work in the large city of Odessa, which has more than a million people living there began with volunteers. A few volunteers from the Lutheran congregation saw the needs and spontaneously did what they considered to be urgent: pensioners received food hampers, sick people were cared for, the washing machine for a family with man children was repaired.
Practical Aid Gives New Hope
Soon the requests for help were so numerous that the work could no longer be carried out after work hours. The congregation in Odessa decided to hire two nurses and a driver. Today hundreds of sick people can be cared for in the small clinic and in the villages. Groceries and medicines as well as clothing are distributed to pensioners and to the needy. For the last two years there has been a program to help with buying coal because many families can no longer afford to buy fuel for the winter.
The needs are great in Ukraine. Medical care, which has become expensive, brings tensions to the point of despair. A medical operation often costs ten times the amount of a monthly tension. Medicine and bandages generally have to be brought to the hospital by the patient.
The social ministry committee of the congregation coordinates the work and decides who may receive support through the congregation. Even if the energies of the nurses and the donations are like a drop in a bucket in the large city of Odessa, they can still alleviate needs in individual cases, give new hope, and let the people know that they have not been forgotten.
Joern Schendel, Odessa.
THE GOSPEL IS BEING PREACHED IN
GAMMAL SVENSKBY IN UKRAINE AGAIN
The Location:
Today Gammal Svenskby is a part of the town of Smeevka. Smeevka has approximately 3,000 inhabitants. It is a "long" town situated along the river and laid out somewhat like villages along Norwegian fjords. A good example of this is the Norwegian Lutheran settlement in Bella Coola-Hagensborg in British Columbia. This was also how most of the Lutheran settlements in present-day Ukraine and Moldova (then the southern part of the Russian Empire) were established. The families lived along both sides of a long street and had a large garden behind the house and barns and went out to their fields to work. There was a communal pasture area for cattle and sheep. The church and school were usually found in the middle of the long village. There are 17 different nationalities represented among the population. Smeevka is situated on the shore of the Dnieper River Reservoir, somewhat removed from the main highway. Work here is found almost solely in agriculture.
The former model collective farm cultivates about 1000 hectares (about four sections) of land. Besides orchards, there are also vineyards and grain fields. This town is an amalgamation of the four villages: the Swedish Lutheran village Gammal Svenskby (Old Swedish Village - also known as Altschwedendorf in German, the former German Lutheran villages of Muehlhausendorf and Schlangendorf and the former German Catholic village of Klosterdorf).
The last pastor who served the Lutheran congregations was Kristoffer Hoas who was bilingual in Swedish and in German. He served from 1922 to 1929. The parish consisted not only of the above three Lutheran congregations, but of five other congregations as well. Two other villages besides Gammal Svenskby were populated by Swedes as "daughter" colonies; Ny-Svenskby and Svenskåker. Each village had a sexton-teacher who would teach the children and lead worship in the absence of the pastor, using books of sermons of well-known Lutheran preachers.
The sexton-teacher was also responsible for baptisms and funerals when the pastor could not be present.
Today, there are three Christian congregations in Smeevka:
The Ukrainian Orthodox Church congregation now owns the old Swedish Lutheran church building and has about 150 people attending every Sunday. Because this is the old Swedish church building, some mixed Russian-Swedish families worship there. The Ukrainian Catholic Church congregation has a house which has been renovated for use
as a worship facility and has about 100 people attending each Sunday.
Continue part 2.